In an exciting match, the Hyderabad Black Hawks emerged victorious with a score of 15-13, 10-15, 15-13, 15-6, 13-15 over the Kochi Blue Spikers at the Gachibowli Indoor Stadium in Hyderabad. This match was held during the second season of the Prime Volleyball League powered.
The star of the match was Hemanth P, who made five consecutive aces and was named the Player of the Match. With the support of the home crowd, John Joseph took the lead for Hyderabad, while Walter Neto struggled with blocks. Hyderabad's captain, Guru Prashanth, added pressure from the service line.
As Hemanth contributed to the attacks from the outside line and Trent O'Dea made blocks from the middle, the home team gained control. However, the partnership between Abhinav and Rohit posed a threat to the Black Hawks.
Inspired by Hyderabad's attacks, Kochi's Erin Varghese brought their aggressive play to the forefront. Walter became more involved in the Spikers' defense, and the Blues disrupted the Hawks' offensive rhythm.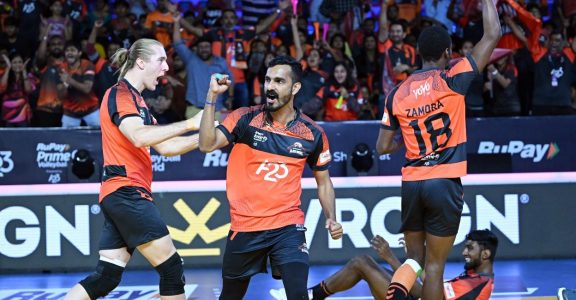 Hyderabad's heavy reliance on Guru proved to be a disadvantage, especially as Shubham Chaudhary became more active for Kochi, shifting the momentum of the game. However, the presence of Varun GS on the court freed up Hemanth, Trent, and John, allowing Hyderabad to make a comeback.
Hemanth's impressive performance from the service line prevented Kochi Blue Spikers from scoring, securing a 3-2 win for the Black Hawks. As a result, the Black Hawks earned two points from the match.
On the second day of the Hyderabad leg of the Prime Volleyball League, the Bengaluru Torpedoes will face the Chennai Blitz, and the Kolkata Thunderbolts will compete against the Calicut Heroes at the Gachibowli Indoor Stadium from 1900 hrs onwards IST on Thursday, February 16, 2023.