After a remarkable performance in 2022, Jyothi Yarraji, a hurdler, has continued her streak of breaking national records in the 2023 season. While she focused on the 100m hurdles last year, setting the national record four times, this time she has taken the indoor circuit by storm, breaking the 60m hurdles record five times in just 19 days.
Yarraji's record-breaking spree began on January 25 at the Aarhus Sprit and Jump competition in Denmark. Competing in her first indoor event, she ran 8.20 seconds in the heats, surpassing Gayathri Govindaraj's time of 8.34s set in Doha in 2016.
On February 3, at the Elite Indoor Track Miramas meeting in France, Yarraji produced a time of 8.18s in the heats and finished second in the final with a time of 8.17s. A week later, at the Asian Indoor Athletics Championships in Kazakhstan, she further improved the record, topping the heats with 8.16s and winning silver with a time of 8.13s.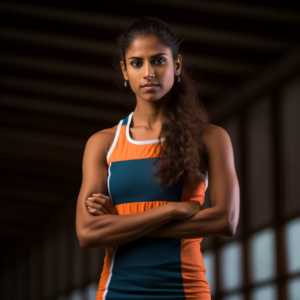 Yarraji expressed her delight at ending the indoor circuit with a personal best. Her achievements are particularly impressive considering her inherent limitations for hurdles. According to her coach James Hillier, Yarraji's height puts her at a disadvantage as she struggles with her start but excels after reaching the halfway mark in a traditional 100m hurdles race.
To address this, they decided to have her compete in the 60m hurdles indoors, aiming to improve her acceleration. Hillier explained that the race requires quick acceleration without focusing on energy efficiency. Shorter athletes often have the advantage in hurdling due to the faster movement and acceleration of shorter limbs, while Yarraji has long legs. The training in 60m hurdles will also benefit her performance in the 100m hurdles.
Hillier emphasized his focus on processes rather than results and expressed satisfaction with Yarraji's timings. He believed that as long as athletes trust the process, results will follow. Yarraji shared the same sentiment, stating that her mindset in every race is to improve her most recent time rather than focusing on the end result.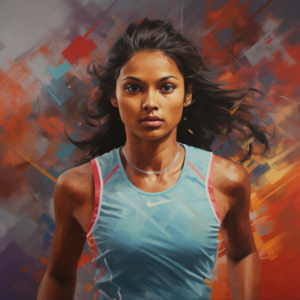 Despite finishing second in Kazakhstan, Yarraji was not saddened by the result as she prioritizes personal improvement. She finds the most satisfaction when her hard work in the gym and training pays off and leads to improvement. Yarraji expressed her emotions when she posed with the national flag, highlighting the significance of her achievements.
After the demanding European circuit, Yarraji is looking forward to some rest before returning to training with Hillier. The outdoor season includes prestigious events such as the Asian Championships, World Championships, and Asian Games. With the qualification cycle for the Paris Olympics starting on July 1, Yarraji, with a personal best of 12.82s in the 100m hurdles, will need another exceptional season to secure her spot in her first Olympics. The tight schedule between the Asian Games and World Championships emphasizes the importance of her fitness and peaking process.